Mougins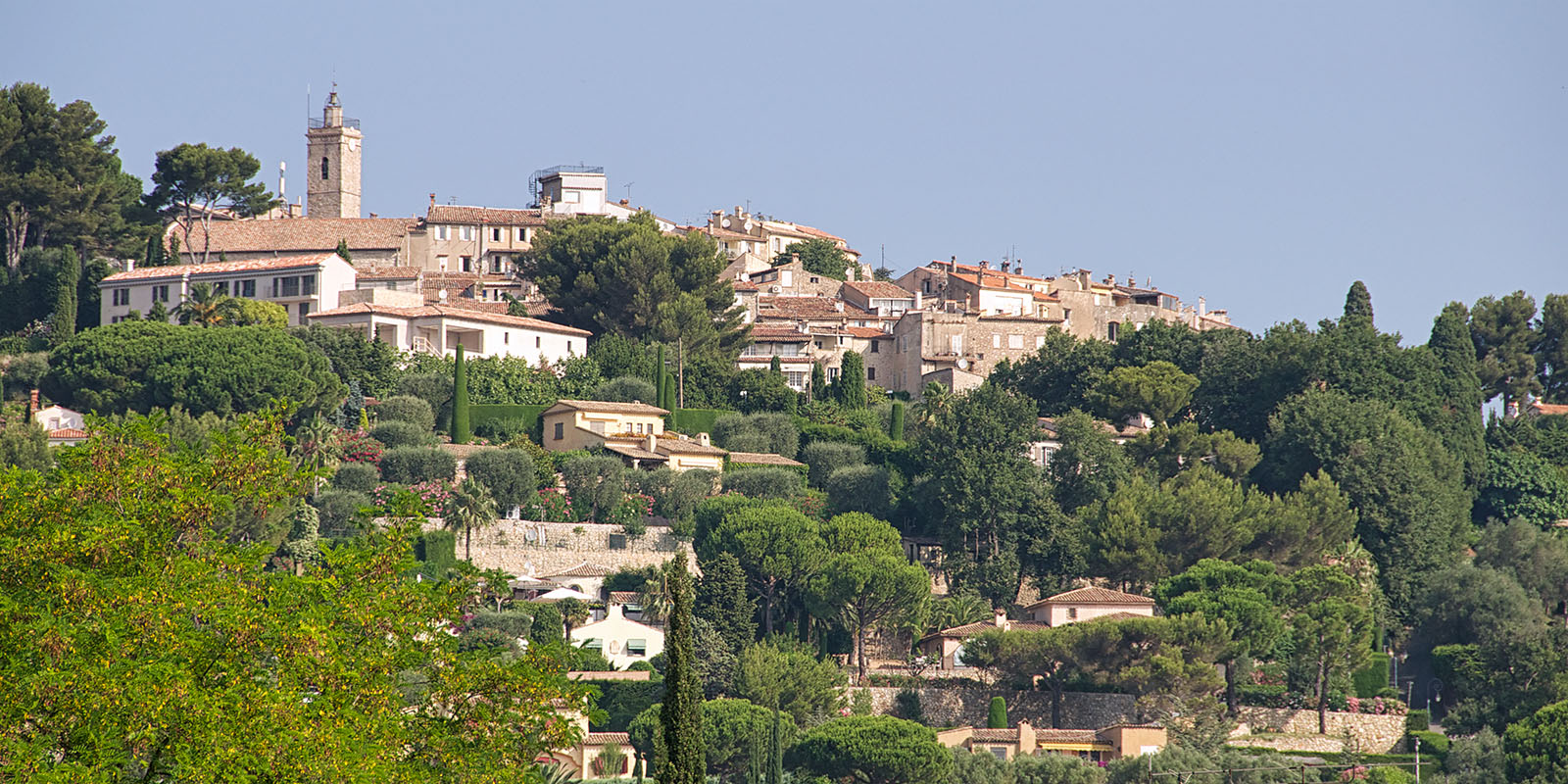 The old part of the village on top of the hill
Mougins is one of the five founding communities of the technology park of Sophia Antipolis, along with Valbonne, Biot, Antibes, and Vallauris. Mougins is located immediately to the north of Le Cannet; the township covers an area of some 25.5 square kilometers (~ 6,300 acres) and is known for having been home to famous artists, such as Pablo Picasso, Jean Cocteau, Man Ray, Christian Dior, and others. To this day, numerous celebrities have a secondary home there; the list includes French president François Hollande, Sylvester Stallone, Sharon Stone, and Mel Gibson.
Nevertheless, when people around here speak of Mougins, they typically mean the old village perched on its hilltop, not the more modern areas of the township. It is therefore that part I wanted to present on this page. I parked my car around 8:20 in the morning in the surprisingly modern (and free!) old village visitor's lot, took the elevator up to the Place des Patriotes that marks the entrance to the village, and started exploring. At this hour, the sun had not yet burned up all the humidity, so the colors were beautiful with no harsh shadows. Another benefit of this early hour excursion was that there was practically no one in the streets, leaving me plenty of opportunities to take pictures. If you want to find out more about Mougins, you can take a look at this Wikipedia page, or, if you read French, there is much more detail available here. But for now, just enjoy a virtual stroll through the old village.
Click on any image to see a larger (1500 x 1000 pixel) version!
The photos on this page were all taken on July 13, 2013, except the very first one, which was taken on July 20, 2013.
---
Home | Site Info | Family | The Area | Trips | France | Work | Rants | Photography | Odds & Ends
---
This page was last modified on July 21, 2013
Send feedback about this page to feedback@kiechle.com
https://www.kiechle.com/area/mougins/index.htm
(optimized for Retina display)

All contents © 1999-2022 The Kiechles