Hawaii 3: Oahu, the Gathering Place
The day after we returned from the island of Kauai, we decided to take it a little easier. We slept a bit longer, then Eric picked us up at our hotel and drove us to Kailua. We first visited the apartment complex where he lived when he first moved to Hawaii, and then we went for brunch at Over Easy, a favorite eatery of his. In the afternoon, we spent some time exploring some of Kailua's wonderful beaches, and I'm pretty sure we stopped for coffee a couple of times along the way. This is the third page documenting our Hawaiian vacation; from here, you can also access page 1, page 2, and page 4.
Click on any image to see a larger (2400 x 1600 pixel) version!
Kailua and its beaches
| | | |
| --- | --- | --- |
| | | |
| Residential complex in Kailua | In the park between buildings | Downtown Kailua |
| | |
| --- | --- |
| | |
| Kailua Beach Park | At the beach |
| | |
| --- | --- |
| | |
| In this season, the beach is not exactly overcrowded | Looking across Kailua Bay |
| | |
| --- | --- |
| | |
| On Lanikai Beach | On Lanikai Beach |
Tantalus Lookout - Puu Ualakaa State Park
Before heading back to our hotel (we felt we had to rest a little bit before heading out to dinner), we stopped at the Tantalus Lookout from where one has a spectacular view over Diamond Head and Honolulu. We spent some time up there admiring wonderful scenery in all directions. We finished the day with a fantastic seafood meal at Roy's followed by a digestive walk along Waikiki Beach and incomparable Macadamia nut ice cream at Lappert's.
| | |
| --- | --- |
| | |
| Looking north to the mountains | Looking over downtown Honolulu |
Ho'omaluhia Botanical Garden
Friday the 13th! Since we had taken it rather easy the day before, Eric took us on a ride to the north shore of Oahu this day. Our fist stop (after a hearty breakfast, of course) was Ho'omaluhia Botanical Garden just to the west of Kailua. This is a wonderful place with many beautiful plants; unfortunately, hardly any of them were identified with these clever signs that would have allowed me to pretend I had at least a rudimentary working knowledge of botany by indicating what I was taking pictures of. Oh well... We then headed north on highway 83 (actually a simple two-lane country road) that follows the eastern coast of Oahu. After a while, Eric pulled into the parking lot of "Tropical Farms: Macadamia nuts, coffee, and chocolate." They had free samples of Macadamia nuts in any imaginable form, tasty coffee samples, chocolates... I have no photos of the inside of the place because I was too busy sampling! We were just about ready to leave when it started to rain extremely hard; I took a picture out the back before embarking on another sampling round (and, to be fair, purchasing some goodies). By the time we left we couldn't have eaten another bite!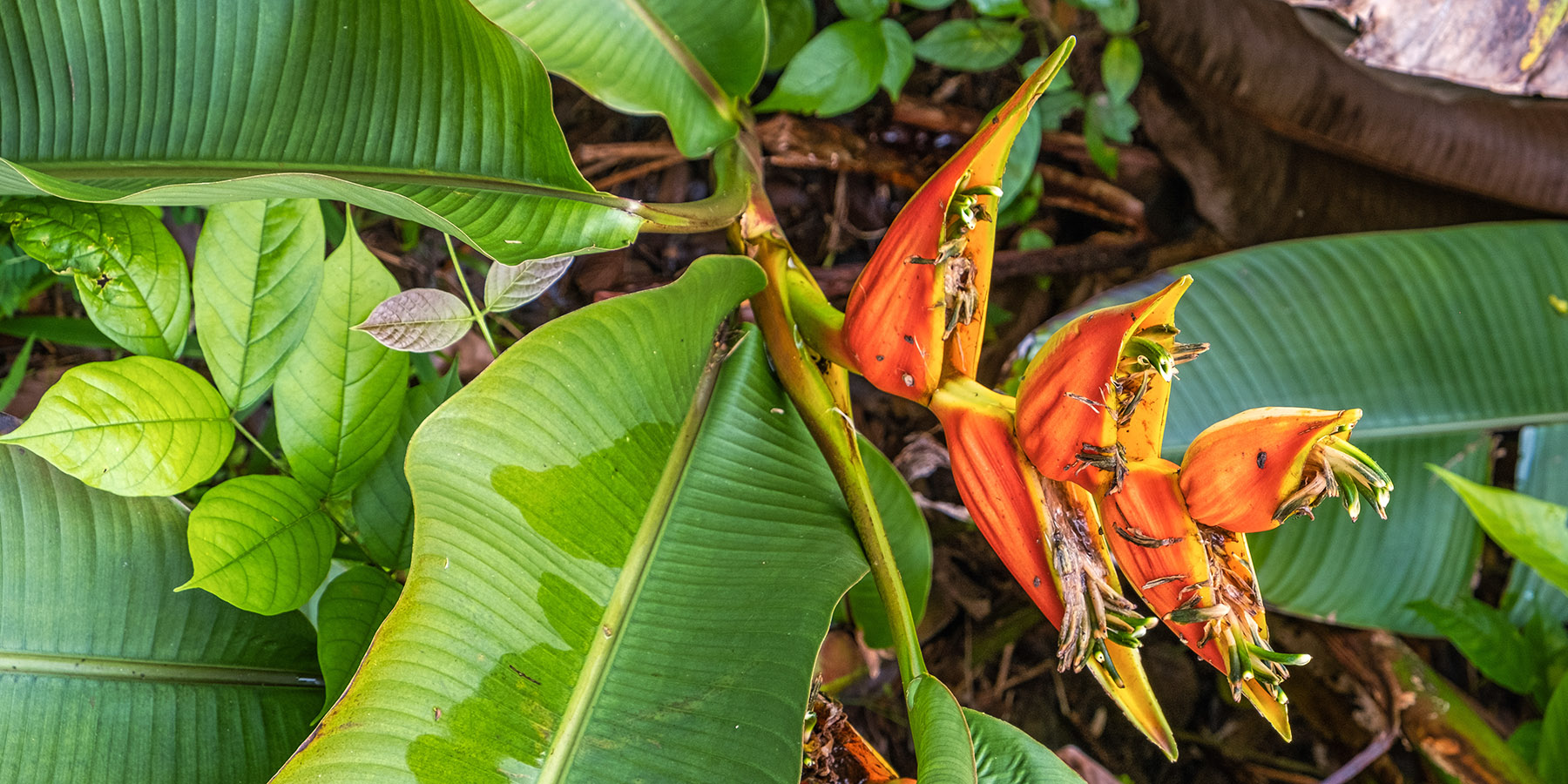 A slightly past-its-prime (but still interesting) Heliconia Osaensis
| | |
| --- | --- |
| | |
| In the botanical garden (no, I don't know what these are) | Cocoa beans (anyone up for some chocolate?) |
| | |
| --- | --- |
| | |
| Colorful pine cone (at least that's what it looked like to me) | The Koi in Ho'omaluhia Reservoir thought we had brought food! |
| | | |
| --- | --- | --- |
| | | |
| In the botanical garden | The Kuou stream runs though the garden | Gorgeous blossom |
| | |
| --- | --- |
| | |
| More plants (if you think we don't know our botany, you're right!) | Looking out of Tropical Farms: it is pouring! |
Shark's Cove and Waimea Bay Beach
We continued on highway 83 for about an hour, past the northernmost tip of Oahu, then following the shore in a southwesterly direction until we reached Shark's Cove. The Pacific Ocean was much wilder here than at the beaches in Honolulu and around Kailua, with more and larger waves. We got out of the car to admire the surf; some people ventured down to be closer to the edge of the water while I preferred to capture the surf from the top. After a while, we continued for a short while until we got to Waimea Bay Beach which has been described as the most beautiful of Oahu's north shore beaches, something that is hard to disagree with.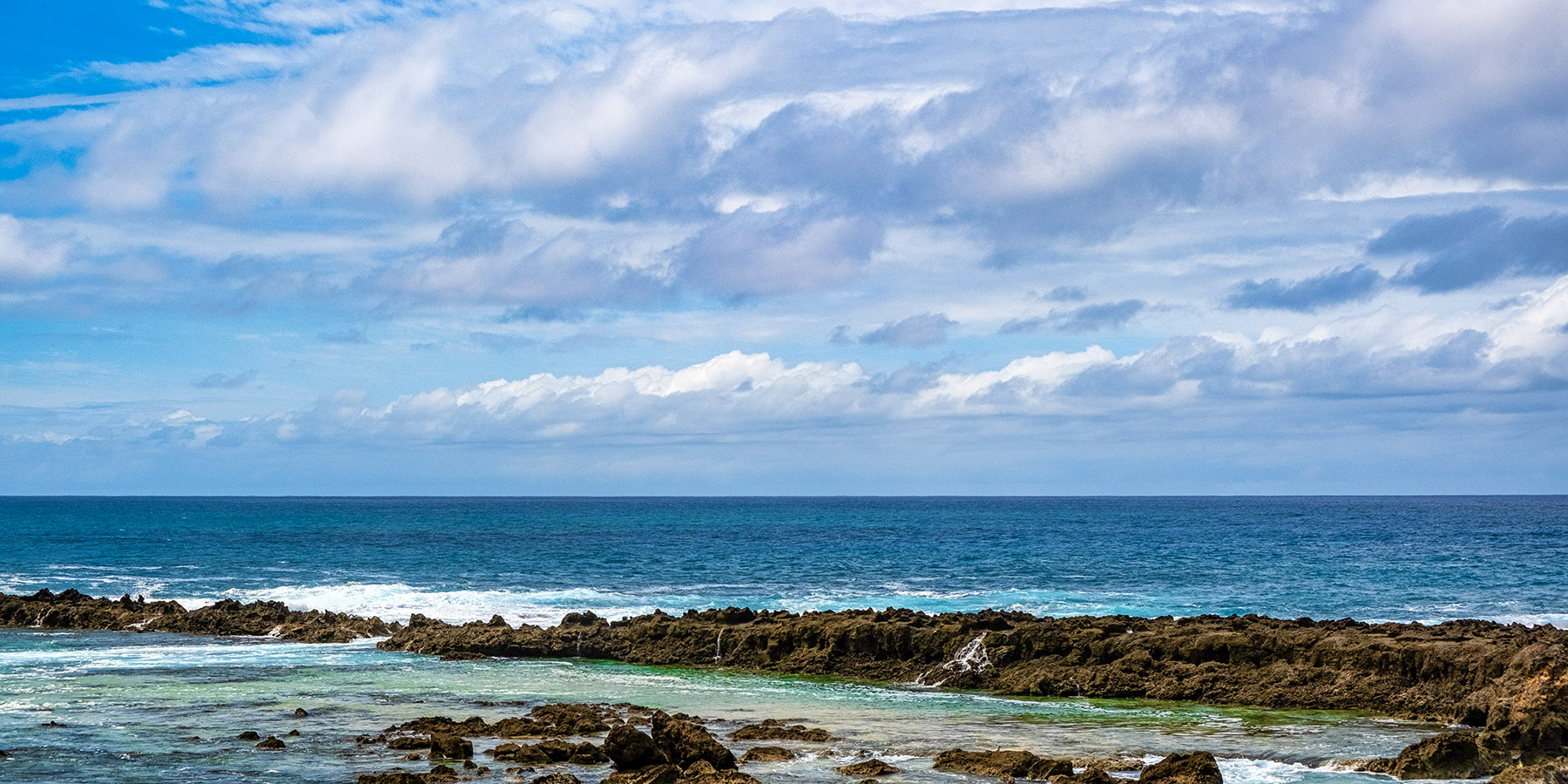 The Pacific Ocean at Shark's Cove
| | |
| --- | --- |
| | |
| The surf can be pretty rough at Shark's Cove | A little further along the coast, near Waimea Bay Beach |
| | |
| --- | --- |
| | |
| Waimea Bay Beach | Even at the beach, the waves can be daunting |
| | |
| --- | --- |
| | |
| At Waimea Bay Beach | At Waimea Bay Beach |
Waimea Valley Trail
Our next stop was Waimea Valley. The visitor center is just a short distance inland from Waimea Bay Beach. We wanted to walk the beautiful trail to the waterfall, so we parked, were duly warned of eventual hazards by a sign, and proceeded to the entrance. Access to the trail costs a few dollars, a little less for Senior Citizens, but the place is well worth it. There are many magnificent trees, shrubs, and flowers, and from several spots, one can see the Waimea River.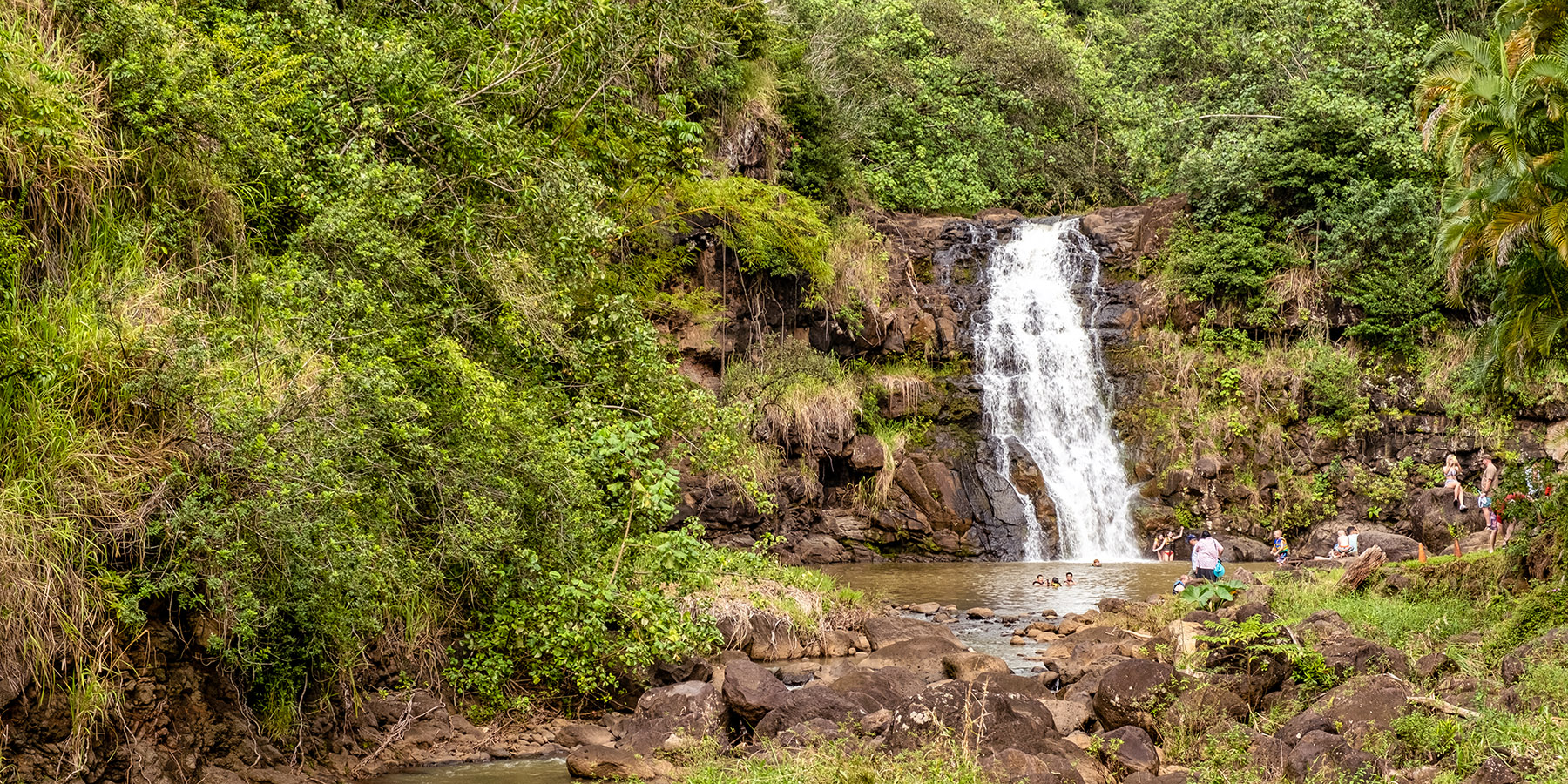 Waimea Valley Falls
| | |
| --- | --- |
| | |
| On the Waimea Valley Trail | On the Waimea Valley Trail |
| | | |
| --- | --- | --- |
| | | |
| Stately tree | Water-lily-covered pond | Beautiful blossom with visitor |
| | | |
| --- | --- | --- |
| | | |
| The Falls | The Waimea River | On the Waimea Valley Trail |
We had a lovely time in Waimea Valley, and when we got back to the car, we were a bit hungry. After all, we had not had a real lunch because of our earlier stop at Tropical Farms! We therefore drove to Haleiwa, parked at the boat harbor, and enjoyed a tasty early dinner at rustic but definitely original Stormy's Gastropub. We drove back to Honolulu on a more direct route going through the center of the island.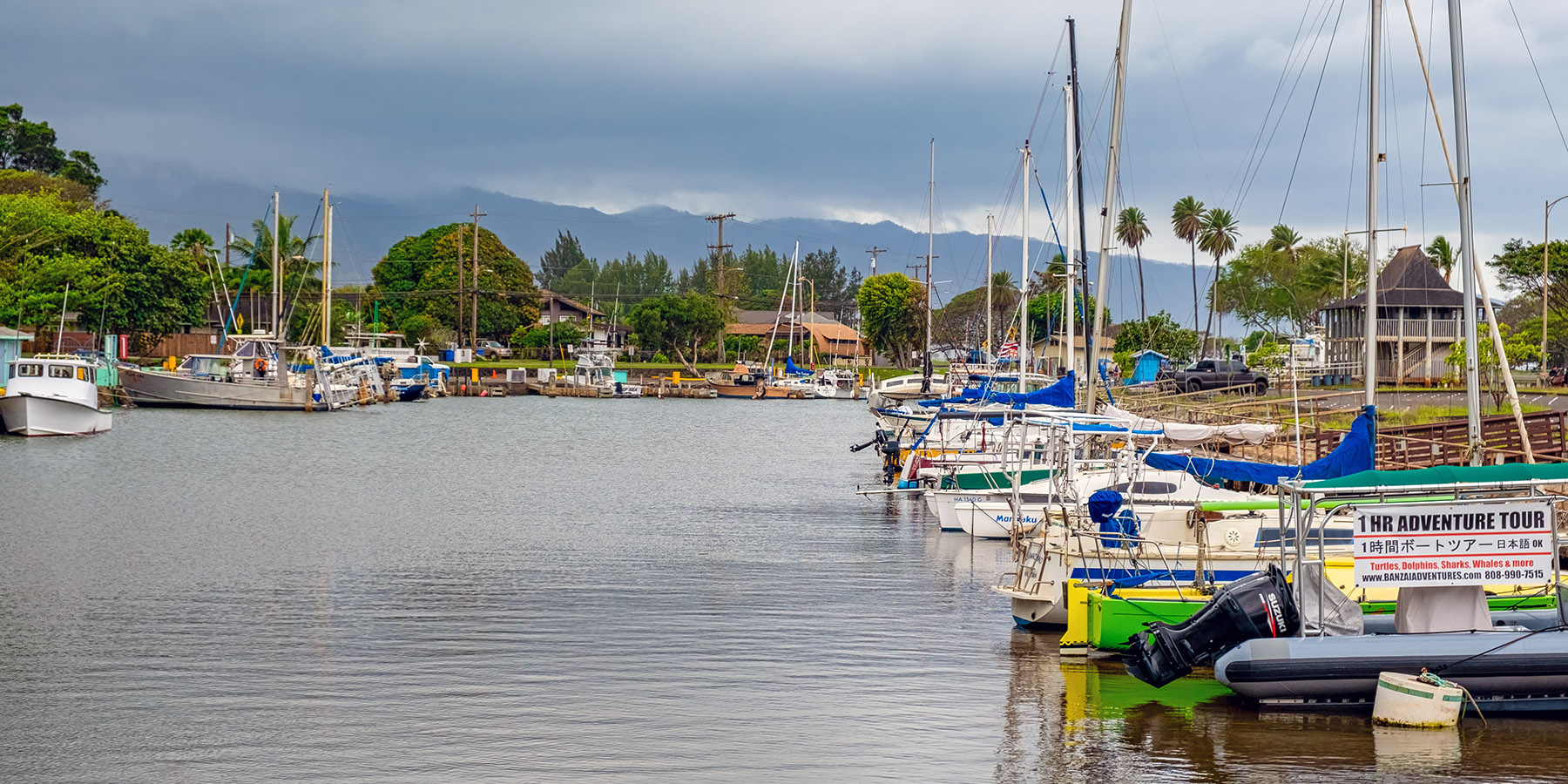 The Haleiwa boat harbor
Two more great days spent in Hawaii: a more quiet one on which we did not stray too far from Honolulu, and one that took us all the way to the north shore of the island of Oahu. This is the third page documenting our Hawaiian vacation; from here, you can also access page 1, page 2, and page 4.
The photos on this page were taken on Thursday, March 12, and Friday, March 13, 2020.
The 203 photographs of all four Hawaii 2020 pages may also bee viewed in a Gallery or a Slide Show.
---
Home | Site Info | Family | The Area | Trips | France | Work | Rants | Photography | Odds & Ends
---
This page was last modified on June 1, 2020
Send feedback about this page to feedback@kiechle.com
https://www.kiechle.com/trips/hawaii3/index.htm
(optimized for Retina display)

All contents © 1999-2023 The Kiechles