La Croisette
The Croisette is the main promenade that follows the Cannes waterfront along de "golfe de la Napoule" from the "pointe de la Croisette" in the east to the "Palais des Festivals et des Congrès" (where the yearly Cannes film festival is held) in the west. Lined with luxury hotels and sandy beaches, it is a favorite spot of tourists and local people alike. For more information on Cannes, you can check this web site.
The photos on this page were taken on April 4, 1999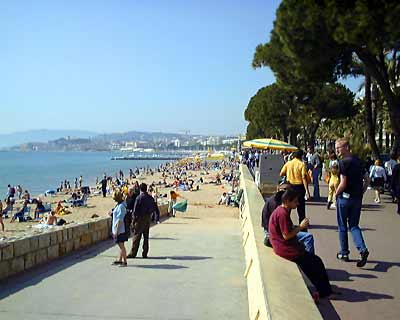 View of the Croisette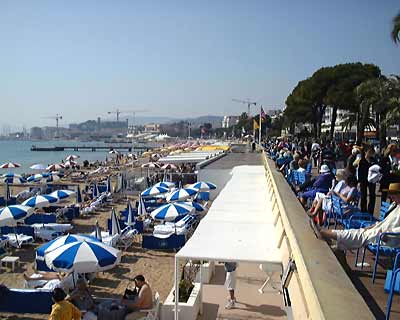 Many hotels have sections of the beach reserved for their clientele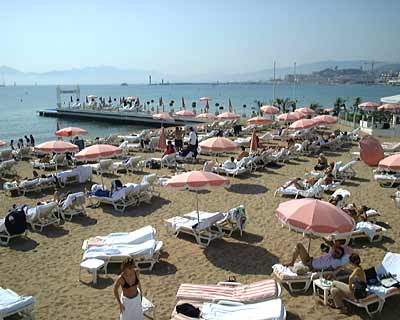 It's early April, and the beaches are already filling up!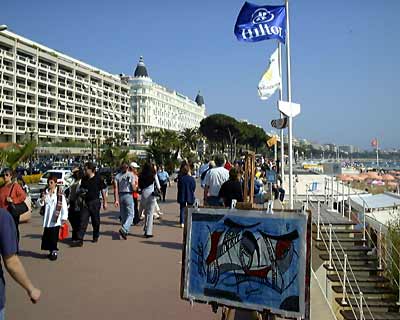 Another view of the Croisette with the the famous hotel Carlton in the
background. The two domes are not identical; according to the legend,
the architect modeled them after his girlfriend's breasts. Only in France...

All along the Croisette, artists exhibit their wares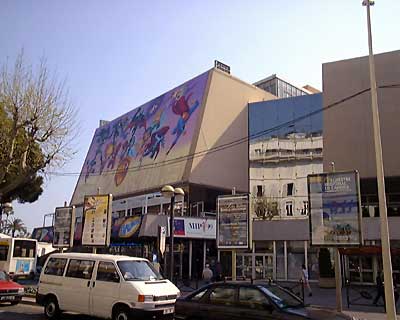 Part of the "Palais des Festivals et des Congrès"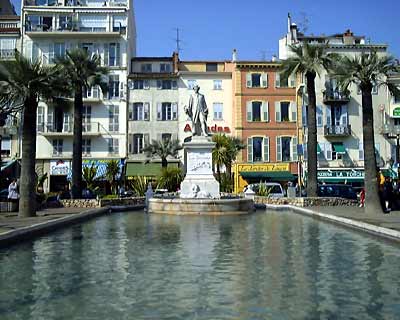 Strictly speaking, this fountain is not on the Croisette but a few dozen meters further to the west. It is dedicated to Lord Brougham who traveled through Cannes on his way from London to Nice in 1834. Because of a cholera epidemic, the city of Nice had closed its borders to travelers, and Lord Brougham was forced to stay in Cannes. He liked it so much that he purchased a residence there and returned every year until his death 34 years later, thus setting the example for so many of his countrymen who later journeyed to Cannes as well as other parts of the Côte d'Azur.
This page was last modified on October 20, 2002
Send feedback about this page to feedback@kiechle.com
https://www.kiechle.com/area/cannes/cannes.htm

All contents © 1999-2022 The Kiechles